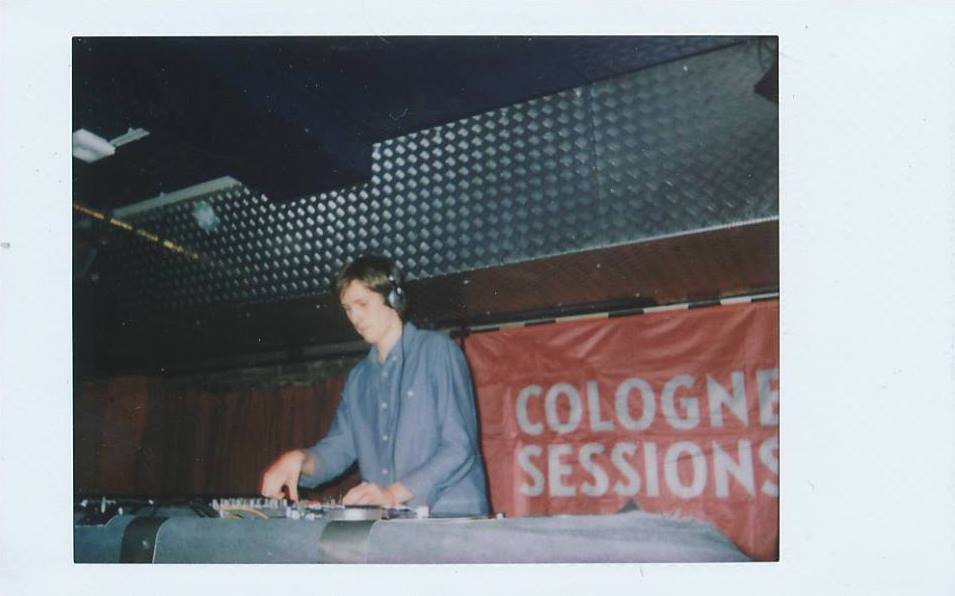 WHAT ARE YOU LISTENING TO IN YOUR WALKMAN/CAR STEREO ETC. RIGHT NOW?
Puhh… when i'm at home i kind of listen to everything in quite a bizarre mixture, going from Coltrane to Dopplereffekt and back! I always try to listen to new stuff and Dj Mixes. For example i recently discovered the super-nice K / D P KEEP IT DEEP PODCAST by Afrikan Sciences. It´s a really interesting mix including some weird but amazing Afro, Jazz and Electronic-Music tunes. His productions are also worth listening!
HOW AND WHEN DID YOU BECOME INTERESTED IN DJING?
Well, I started Djing about 1 ½ years ago. At the beginning I only had one turntable, so I always went to my former neighbor and good friend Felix Bold to learn how to beatmix and stuff like that. Because of him and other friends like you guys, or the Alaaf and Kickin Crew, I became enthusiastic about electronic music and Djing. Also my brother used to show me DJ´s like Theo Parrish or Floating Points and by that I got really into different forms of music, so that my record-collection now includes almost every genre from experimental Jazz or Funk & Soul to some rough-ass House and Techno stuff.
HOW DO YOU FIND NEW MUSIC?
I think, nowadays the internet is quite a great place to find and explore music, but it still is very important to go digging at the recordstores. The internet just often helps me to know what to dig for and sometimes I just can´t help to order a 40 $ record I love and probably won´t find in local recordstores.
WHAT IS YOUR PERSONAL CONNECTION TO THE COLOGNE SESSIONS? MAYBE A FUNNY STORY?
I´ve been going to Cologne Sessions since about 2 years now, I think. And it´s really nice to see the party develop in an incredible way. The Booking nowadays really amazes me and I have to really thank the whole crew for making it possible to hear and see Dj´s that I admire! I can´t remember a funny story in particular, but I can say that I always had a Great time. Of course the last Session was the most special one for me!
YOU HAD YOUR DEBUT AT COLOGNE SESSIONS.
LET US KNOW HOW YOU FELT BEFORE, DURING AND AFTER!
When you asked me if I wanted to play alongside you guys, I was about to start studying for an exam, which I immediatly stoped. Instead I started listening to all my records, searching for the right stuff! (The exam fortunatly turned out to be not that bad!). At the night of the party I was quite surprised that I wasn´t even so nervous anymore. I think having Dinner with the crew before starting really helped me calm down and it was nice to hear some other stories about first DJ Gigs. While playing I always get kind of stressed, but in a good way. I try to focus on the music, not about what is going on around me, and by that I don´t mean that I don't care about the crowd, which I of course do! :D After finishing, I just got very relaxed and had a really great time.
ANY PLANS FOR THE FUTURE? DJING? OWN PRODUCTIONS? WE HEARD YOU PLAY A CLASSICAL INSTRUMENT (PIANO?)
Yes, making music in forms of playing piano or Djing are the two things I am focussing on at the time. I´ve also been fooling around with Ableton Live, but actually I would love to start producing with analog machines. The problem is, that I seem to be incapable of saving some money for proper equipment, because I´m always broke at half of the month after buying records that I actually can´t effort! But I am really planing to discipline myself and focus more on my own production-work.
Once again I really have to thank the whole Cologne Sessions Crew for letting me do this! Also many thanks to everyone who came by and danced!
THANK YOU JANNIS!
Interview via email from January 2014.
Polaroid by MAGNUS.