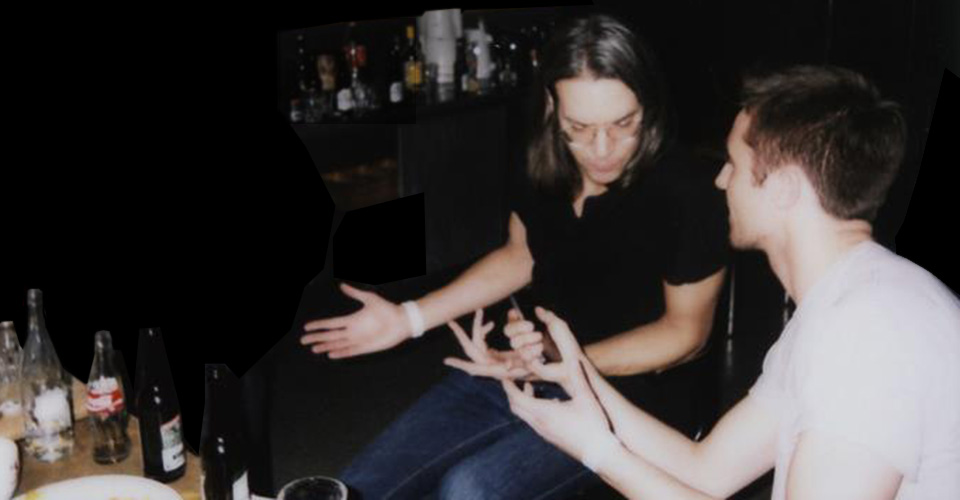 WHAT ARE YOU LISTENING TO IN YOUR WALKMAN/CAR STEREO ETC. RIGHT NOW?
Recently I've been listening a lot to some re-releases from German imprint Bureau B, who are bringing out some old records that were originally released on Sky Records, which was krautrock, experimental label from the 70's and early 80's with artists such as Moebius and Plank. I just bought a whole stack of these and that's actually what I'm listening to a lot lately.
WHAT WAS YOUR MOST BEAUTIFUL DJ/LIVE EXPERIENCE?
Ok, that must've been one of my first DJing experiences when I was having a birthday party in my parents basement. That was the first time in my live that I made a playlist for an event. So I grabbed all my vinyls (around 20 at that time) and tried to put together a playlist that would build up and I thought would work well. It was really exciting although almost nothing of what had I imagined to happen before worked out. But that's why it was a great experience and I will always remember it.
WHAT WAS YOUR WORST DJ/LIVE EXPERIENCE?
Uh that's a tough one … there were quite a few. Besides some pretty normal experiences when there are technical issues I think the worst is if you get completely misunderstood by the crowd because they are either expecting something different or just don't get what you are doing. This happily doesn't happen very often. But I remember back in the days, when in Frankfurt there was this club called "Wild Pitch" where ATA and HEIKO MSO had a regular thursday night and they played mainly deep house. But since we were also fans of techno (more like the experimental kind a la WARP Records) we tried to set up a night with more of this sound which didn't work out at all. Around that time in the end of the 90's techno was just very fast and hard. So we thought that it couldn't go on like that and wanted to change something. But I guess there was not really a crowd that would enjoy what we were doing. So that was a pretty sad experience to me.
HOW WAS THE DAY OF YOUR FIRST RELEASE?
Well, it's good that nobody really knows about it (laughs). That must've been in the beginning when things just started out with me and Jörn [Flügel's partner at ALTER EGO]. I was at the tender age of around 20 and Jörn and his partner at that time where already making music under a different name. I couldn't really identify with the sound they were making. Their direction was already set but I joined and it turned out to be released. Of course I was proud to hold my first record in my hand, but it actually had a bitter taste in it because it wasn't really what I wanted to do even though my name was in the credits. There were actually three releases of this project and it turned out to be the starting point for ALTER EGO and other Projects.
DO YOU OWN A COPY OF EVERY RELEASE YOU MADE?
Yes. I think I have one of each release. Their not framed or something but at home, in the studio or in the basement somewhere around.
THANK YOU ROMAN!

Interview recorded at COLOGNE SESSIONS in April 2013. Polaroid by KATERINA TRAKAKIS.